Jumping right in here, literally, it was noted in the last post that the Song also takes a leap, straight into a very passionate expression. If there was any courtship, it is now over, and for this moment of love the searching and "second guessing" is gone as well. Perfect love has cast out all fear, and the cry of the Bride pierces the silence…
"Kiss me with the kisses of his mouth: for your love is more intoxicating than wine!"  Song 1:2
.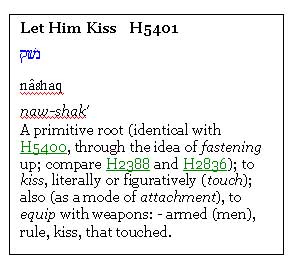 If there is any doubt of the implied urgency in the Bride's voice here, the Hebrew word for "love" in this verse is "dodhim" and like it's Greek counterpart, eros, it means sexual "love-making." (See for example Prov.7:18, Ezek.16:8)
.
Also, in regards to the kind of kissing that is desired, Jay Ferris in an email about this verse translated it as, "fasten me with His mouth…"
"Kiss" in the original seems to have its meaning in the sense of an attachment or a fastening up; even with a military connotation. I guess when you are in a war, and we surely are, you don't want to become detached from Him. In such a case the wine might get spilled. Looks to me like in the original language this verse is even more powerfully intimate than it appears in any English version that I've ever seen. :-)"
.

Truly, there is such peace in knowing we are fastened by the Lord. It was very revolutionary in my own life to finally receive the assurance I was His and "no one can pluck me out of His hand", John 10:28. Most of my years growing up was spent on a roller coaster of feeling like I was losing my salvation at every fall, and trying to feel secure through a "keeping of grace."
.
But in the fullness of time the door of heaven opened for a relationship anchored in His everlasting love, not fear. :-)
He bent, their lips kissed, Lo their lips were sweet, Sweet as grapes
She rose, their lips kissed, Lo their lips were locked in sweet embrace
The wine was shared, pressed through the veil of death
Filled with the Spirit, filled with fullness of grace.
.

Taking it from a more personal level into the corporate, how do we 'fasten' one another?     In Romans 10, Paul shares how a distinguishing aspect of our salvation in Christ apart from the law is that the Word of God is in our very mouths. "The word is near you; it is in your mouth and in your heart," Romans 10:8.
.
That is pretty close.
.
Jay Ferris once explored this image of closeness with a Hebrew scholar friend, coming to a conclusion afterward that the words, "Let him" in "Let him kiss me" (which is in most translations) is implied in the original, and what is really happening here is not a prayer of the Bride that contains any doubt, but she is responding in faith to a Face who was, and is, leaning very close to her face. "Kiss me.." is more like what she is saying, or, "Kissing Be, and Kissing Was."
.
This appears to also be the case with the first words of God in Genesis 1:3, "Light be, and light was", rather than, "Let there be light" (as if God needed to get someone's permission to create light). The significance of this difference Jay shared in his post, "Being & Doing."
.
It is also interesting to note that here in this moment of history, and for whatever other reasons I do not fully understand yet, the one who is speaking the opening words of the Song is the Bride. What comes to mind is, "The Spirit and the Bride say come," Rev.22:17
.
Conversational Kissing?
.
"Kiss me with the kisses of HIS mouth"  (we don't want to be fastened down by any kisses but His).
.
Within our communications it is beautiful to see "kissing" as a mutual act of engaging one another for an impartation of Christ within intimate, spiritual relationships that God gives to us; done in the sensitive dance of listening, encouraging, validating, admonishing, and responding to one another in Love – with the desire for spiritual oneness. It is this latter motivation that sets apart communicating in love, from mere "word rape."
.
I am sure there is so much more that could be said on this verse. One thing I am thankful for is some pretty amazing "holy kissing" this last weekend. :-)
.