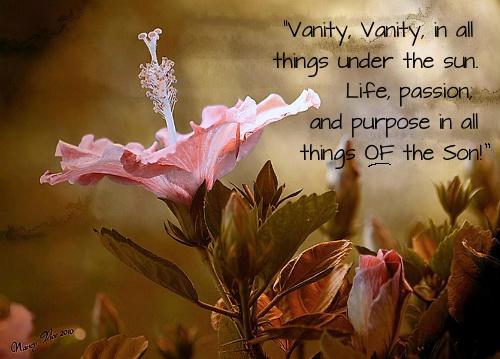 Two of the books that Solomon wrote, Ecclesiastes and the Song of Songs, seem to be as vastly different as the sun is from the earth.  Did Solomon write the Song in the thralls of "first love," and Ecclesiastes later after falling away?  Or did he find true love later in life after experiencing the vanity of the flesh?  I'm not totally sure.  Perhaps the point is mainly, where are we right now in our passion for intimate relationship with our Beloved and His body? 
Watchman Nee said,
"The book of Ecclesiastes speaks of a life of wandering; the Song of Songs speaks of rest from wandering. Ecclesiastes tells us that one cannot obtain satisfaction through knowledge alone; the Song tells us that man can reach satisfaction only through love. Ecclesiastes relates to the pursuit of all things under the sun; the Song relates specifically to the pursuit of things in Christ."
.
After posting this quote on Facebook, Jim Puntney had a response I thought contributed beautifully to what Nee is saying.
"The book of Ecclesiastes used to trouble me a bit, the vast wealth of Solomon, and his wisdom and in it all he came to see everything under the sun as vanity. Once I was able to see that this is indeed true, and the gift is what's above the sun that brings life meaning. The Song truly is from above the sun and it reflects the Love and passion of The Son, and His wooing of His bride."
.
"Seeing you have been been raised with Christ, set your hearts on things above
where Christ is, seated at the right hand of God." ~ Colossians 3:1
.