You bring pleasure to me like a sweet smell…  Ex. 20:41
.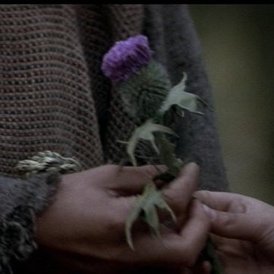 If you have ever loved someone deeply, you understand what it is to long for reminders of them when apart, including smells.  Like music and art, fragrances can stir emotions, invoke memories, and keep love aflame.  Many of the stronger oils such as spikenard and myrrh are even known to affect the nerves!
.
Everything on this earth is only a shadow of the true reality, however, and there are heavenly fragrances that are very real, and very powerful.  For that reason I'm sure you "catch my drift" when saying I wish I could infuse this post with perfume!  That when you read it and breathe in, you can 'see' with your sense of smell, a vision for our oneness in Christ and with each other in heavenly places.
Scented with Joy
While the king reclines at his table, my spikenard sends out its fragrance. Song 1:12
.
We've been talking for some time now in the past verses about a correspondence between Solomon and the Shulamite, which I have a sense, visually, (if this song is an opera/play) are letters sent between them.  Now in the next few verses, I'm of the persuasion that these notes were scented.  First, that Solomon received a note from this woman infused with spikenard, and delivered while he was at dinner.  Knowing how potent this oil is, it's hard to imagine the King being able to concentrate on eating after that.  Surely he wanted only to consume her!
.
Interestingly there is a similar story of Jesus Christ being affected by a woman's perfume – and spikenard no less.  Mary poured her life-savings of this costly oil all over Jesus when He too was at a dinner party.  Not only did the fragrance "fill the room," it filled His heart.  Think about it.  There was no time for a bath after this before He went to the Cross.  When He hung there naked, abused, and misunderstood, this emanating gift of love infused into His hair and skin gave Him strength and hope.  With every painful breath He took, He breathed in the Bride.  He breathed in you and me.
For the joy set before Him, He endured the Cross.  Heb. 12:2
Scented with Suffering
A bundle of myrrh is my beloved unto me; spending the night between my breasts. My beloved is unto me as a cluster of camphire in the vineyards of Engedi.  Son 1:13-14
.
It is not without significance that the note Solomon returns back to the Shulamite is then scented with myrrh and camphire (henna blossoms).  Both of these oils speak of suffering and atonement, and are very potent as well.  Seeing she then tucks His precious, scented words between her breasts, I have to wonder if she slept much that night either?  There is a lot in this image of our oneness with Christ, and sharing dark nights of suffering together.  I hope you can relate.  There is nothing more precious than to love someone that the Lord gives you so much that it hurts.  In fact, if you don't love others this way, you really don't love them.
The Thistle and The Scarf
There is a close link between our sense of smell and sight.  I connected the two recently when watching the movie Braveheart for the first time. There was a beautiful scene when young William Wallace is at the burial of his beloved father, and a little girl plucks a thistle and gives it to him.  It was a prickly, common, and overlooked weed, but it was how she looked into his soul that moved me.  It was a look of trust and 'knowing' that not only transformed that thistle into a beautiful flower, but it transformed this boy's life.  In that look he had something to live for, and something to die for.  When later Wallace became a man, he gave back the thistle to this girl, which he had kept and pressed.  Then at their 'secret marriage,' she gives him another gift – a scarf – which Wallace carries close to his heart as a reminder of her, and a motivating symbol of hope through her death, and his.
.
The following is a short movie clip from Braveheart showing this imagery [Click on this link if you are reading by email].  I would invite you to go beyond just 'seeing' the objects, but to also 'smell' them.  Like the spikenard poured out on Jesus, uninhibited acts of worship and love are powerful forces that will increasingly become an impetus in the ongoing battle for the full, and free expression of Jesus Christ in the earth.  Don't hold back.  Pour yourself out for the joy ahead – His joy.   As Wallace said, "We are all going to die. The question is how."
.
.

.