The following is a straight-forward and passionate piece that  a friend in Germany wrote, and shared with me.  It seems very fitting at the juncture here in the Song of Songs, and I am honored to be able to share it with you. :)
Love,
Pam
.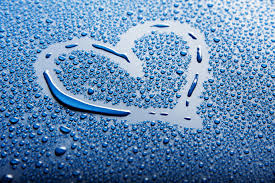 "When God created male and female, he made them very vulnerable. Compared to the animals, they are more vulnerable than a mouse.  A mouse is perfectly adapted and outfitted for the level of creation it is made for. It has everything it needs for survival… but not so for human beings!
.
God made mankind to live and function only in a paradise , and so their existence has been very threatened ever since losing paradise.
.
By using their superior mind, mankind has been able to gain knowledge, survive, and even subdue creation… but this doesn't change his underlying status of utter weakness and vulnerability.
.
If there is anyone who is aware of this grim reality, it's mankind… and he doesn't like it at all!  He tries to cover his vulnerability to show himself strong to others. This dressing up to avoid hurting is the cause of all conflict we have experienced since the beginning of time.
.
I have to be strong, I have to be tough.  "Survival of the fittest" is the slave-master torturing mankind with incomprehensible pain and suffering.
.
Jesus however showed us the opposite way! True strength is shown in choosing vulnerability and lowliness. He says that those who embrace this way will rule the earth.
.
There is a willful choice involved in deliberately stopping fighting any more, and in letting God fight for me. I take my eyes off other people and see myself secured in, and by Him.  If they treat me wrongly, I'll fight against the hurt that I feel inside me, not against the ones doing me wrong.  If I hold something against someone I am not seeing myself as being 'inside' of Christ, and so, I have to make a choice. Will I give room to my natural perception, or will I give room for the reality of His life in me?
.
Shulamite had no problems with the guards doing her wrong – even wounding her.  Her love was stronger than the grim reality… and so His love in us can be stronger, too.  She knew about her worth and didn't care about her past at all. She didn't neglect or hide it, but worked through it .
.
The greatest gifts God has given us are our weakness and vulnerability! This is because He wants to be our strength and security. We no longer have to secure ourselves… and so can enjoy nakedness among each other once again.
.
Love sets the other free… and always will do so! Love is never satisfied with some outward array but loves to bathe in the truth of the other's heart. Whenever one tries to behave according to an imagined standard (imposed or self-chosen) this will cause pain to true love and kill it in the end.  Shulamite rested in the knowledge that she was the ultimate the king could find.  This freed her to give herself completely… yes, it was a compulsory need to undress before him. Shulamite didn't draw back but was completely confident in her love.
.
Oh, let's forget about the past, even forget about the life around us right now. Let's live for love alone… and watch over each other that we may always be found in His love.  "Come let us run together," and encourage each other to love Him more and more."
.
~By Markus Reins
.

"He said to me, 'My grace is sufficient for you, for my power is made perfect in weakness.' Therefore I will boast all the more gladly about my weaknesses, so that Christ's power may rest on me."   2 Cor. 12:9
.
"Royal bride, listen. Think about this and pay attention to it. Forget about your people and the home you came from.  The King desires your beauty; He is your Lord, worship Him." Psalm 45:10-11