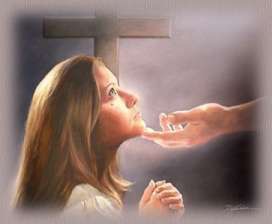 I just returned home from a long traveling trip with my new husband, and although finding the time to "study" the Song of Songs continues to be hard, I take comfort that the Lord knows the place I am in life, and pursues me.  I need him so very much.
Last weekend I felt such a loving pull, and incidentally it was in a low budget movie about King Solomon's life that happened to be on T.V. There was a particular scene that was quite remarkable and I'd like to share it with you! :-)
As many of you know King Solomon was very wealthy and had many wives and concubines from all over the world. There was one woman however that stood out above the rest, and he was hopelessly in love with her. He couldn't wait for the moments together when He delighted and rested in her very being, and she in him. In this blog this woman is referred to as the "Shulamite."
In the scene that I want to tell you about, Solomon was changing his robes to go out and see her. He ran into his chief advisor who tried to distract him with kingdom issues. Solomon was not going to have it. The advisor asked him what was so special about this woman that he would put her as a priority. I wish I had a video of this part of the movie! Solomon gazed at his advisor as if in a trance. "Oh this woman," he replied back, "this woman is an angel from heaven, that's what she is! She is my past, my present, and my future. More than that, she is light! No, she is love! This woman…Oh this woman, she is the very breath of God!"
The chief advisor looked at him with shock. You could tell he didn't understand the kind of love Solomon was talking about, and even thought the king was speaking heresy! "My King," he replied, slowly and incredulously shaking his head, "She's just a woman!"
Now this is the part I really love. Solomon smiled big and replied, "Exactly!"
Did you get this? Solomon didn't answer his advisor, "She's not just a woman, she is more than that." Rather, he expressed that a woman is exactly who she is! A woman needs no apologies or explanation. She doesn't need to be anyone or anything other than who or what she is. Being "just" a woman is all that is needed in the eyes of her true lover to be absolutely perfect!
Being Just You
I instantly felt the Lord speak to me. The way Solomon saw the woman in this movie doesn't even compare to the way the Lord sees His bride. Think about it. Do you really comprehend that you are passionately loved exactly as you are, even at your very worst? You don't have to be anything 'more' than who you are to be the object of God's affection. He's never had any illusions about you. In fact, you are the reason the Trinity created the universe, and ultimately Jesus came to earth in human form. It was your love, trust, and eternal marriage to Him that He was, and is constantly seeking.
How God "feels" without you…
Another book that Solomon is known for is Ecclesiastes, one of the most depressing books in the bible. I love how this movie showed how he came to write it! At a certain point in the story "the woman" had to leave the kingdom to return to her faraway land, and Solomon was devastated. When he ran into his chief advisor again, the now loveless king couldn't help but cry out, "Vanity, vanity, all is vanity!" Solomon was ruined. Without living in, and for love, his life felt meaningless and boring.
As close as His own breath
My favorite promise in the bible is that the Lord never leaves or forsakes us. The greek word behind "never" implies that He is not just able to sustain an everlasting commitment to us, but also His very feelings!  I'd like to invite you, with myself, to respond positively to this most amazing love. Yes, "just" you. :-) The Lord knows you inside and out, and He has never stopped adoring you. Without you… well, there is no such possibility. Not when you are His very breath!