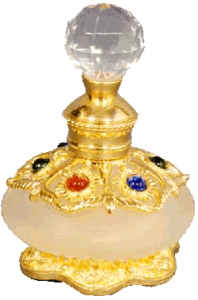 "Because of the savour, (Strong's #7381) of thy good ointments thy name is as ointment poured forth…," Song 1:3a
.

7381 – reyach ray'-akh from 7306; odor (as if blown):–savour, scent, smell.
7306 – ruwach roo'-akh a primitive root; properly, to blow, i.e. breathe; only (literally) to smell or (by implication, perceive (figuratively, to anticipate, enjoy):–accept, smell, X touch, make of quick understanding.


.



According to the Strong's definition above, the word "savour" here in the KJV (savor in modern English) contains a "make quick to understand" facet to it, which is kind of mind blowing. It is a way of understanding that transcends words. It is the purity of an understanding that comes with the mere fragrance of our lover!
2 Corinthians 2:14-17: "But thanks be to God, who always leads us as captives in Christ's triumphal procession and uses us to spread the aroma of the knowledge of Him everywhere. For we are to God the pleasing aroma of Christ among those who are being saved and those who are perishing. To the one we are an aroma that brings death; to the other, an aroma that brings life. And who is equal to such a task? Unlike so many, we do not peddle the word of God for profit. On the contrary, in Christ we speak before God with sincerity, as those sent from God." NIV
It is interesting to note in the above passage that being a pleasing aroma of Christ (savour in the KJV) is connected to not peddling the word of God for profit. Substituting the word 'peddling' with 'prostituting,' the importance of this connection may become clearer at the end here, particularly when we see how one becomes the aroma of Christ.
.
At this point I'd like to propose a provocative image about this aroma. It is linked to the intimacy in the preceding verse, Song 1:2, as well as to the effect that His fragrance has in the second half of Song 1:3, "…therefore do the virgins love thee." The connecting point is something called, "contact."
.
For this, consider here the meaning of the name "Christ" in Jesus Christ.  When "following the scent," we realize that His is not just any name.  It is THE Name above all names.  Jesus has the Father's anointing, and He received this from intimate contact – oneness – with Him.
.

.
Connecting this to 2 Corinthians 2 above…
On multiple levels it is something that is inevitable, that closeness with another brings a mingling of odors. Even as the strong, fragrant oils poured out by Mary was carried on Jesus' hair and body when He left that place to embrace death for us, even so the perfumes of Jesus – even His delightful graces and anointing – rubs off on the one who has been with Him and in whom He intimately dwells. "The anointing which ye have received abides in you…" 1 John 2:2, also 20.
.
The result of spiritual union with Jesus the Anointed One is that wherever His Bride goes outside the inner court, she pours forth – even exudes – His aroma. The scent is such to trigger a strong response in those that smell His fragrance on her – even a knowledge of His name.
Words aren't even needed when one smells of Him.
.
In Love~
.
For a further thought on this subject, see: Lingering Fragrance (Song 1:3 Cont.)
.